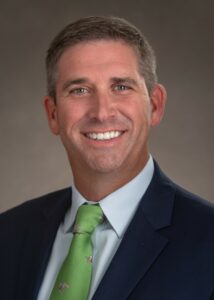 ALBANY, New York, January 3, 2019 – BST & Co. CPAs, LLP, one of the Capital Region's leading financial and management consulting firms, today announced that Jim Hogan has been appointed director of business development.
Hogan brings more than 20 years of sales, marketing and business development experience in the financial services industry to BST. In his new role, Hogan will oversee the implementation and execution of growth strategies, including acquiring and retaining new and existing clients.
Prior to joining the firm, Hogan served in sales, advisory and finance capacities at several distinguished companies, including MassMutual Financial Group, New York Life and Northwestern Mutual Life.
"We are pleased to announce Jim's addition to BST. He brings valuable experience to our business development department and will be a true asset as we continue to strengthen our market position," said Ron Guzior, managing partner of BST & Co. "Jim's specialized focus will help guide our firm to the next level as we seek new avenues for growth."
Hogan earned a bachelor's degree in business administration from Manhattan College. He is an active volunteer in the community, including serving as fundraising and event chair for World's Window and as treasurer of the Saratoga Springs High School girls' lacrosse booster club.
"I'm thrilled to work alongside the team at BST and contribute to its reputation as one of the most well-respected firms in the accounting industry," said Hogan. "I look forward to applying my expertise and insight during this exciting time of growth for BST."
With roots tracing back to 1944, BST & Co. CPAs, LLP is recognized as one of the largest accounting and consulting firms in upstate New York. The firm offers traditional accounting, auditing and tax services; as well as specialty services related to business valuation, forensic accounting, litigation support, employee benefit plan auditing and consulting, governmental auditing and consulting, merger and acquisition assistance, wealth management and personal financial planning, and estate and gift tax consulting, amongst other services.
The firm is a long-standing member of the RSM US Alliance, a premier affiliation of independent accounting and consulting firms in the United States.